One Of The Best Ski And Snowboard Resorts In Idaho  – Tamarack

Skiers and snowboarders from far and wide choose Idaho as their preferred state to hit the slopes — and it's no surprise. With frequent clear skies and sunny days, ample snow, and plenty of ski mountains to choose from, what's not to love?
But one of Idaho's mountain resorts is growing in popularity each year, and the list of reasons for all the attention is long. Tamarack Resort, the only destination resort in the McCall, Idaho area, brings everything to the table for vacationers. Nestled in the Payette River Mountains, Tamarack is more than a ski mountain — it's a year-round vacation destination.
Vacations In Idaho Mountains — Tamarack Is At The Top Of The List
Whether you're planning a winter getaway, or a summer vacation, the time of year you're trying to get away determines a lot about your activities and destination. Wintertime vacations are filled with skiing, snowboarding, snowshoeing, snow tubing, and more while summer plans are focused on mountain biking, hiking, fishing, or boating. But no matter the time of year, certain things are musts for a good vacation: ideal lodging, resort amenities, dining options, and a beautiful backdrop for your outdoor activities. Regardless of when you choose to visit Tamarack, this resort has everything covered. From year-round activities to top-notch amenities and fine dining to supreme lodging, Tamarack is the perfect place to get away for a romantic weekend, family vacation, or business retreat.
Why Choose Tamarack Over Other Idaho Ski Mountains?

It's hard to go wrong in Idaho, but Tamarack provides skiers and snowboarders what many other Idaho ski resorts can't. With 50 named runs of varying skill levels, plenty of off-trail options on the 1100 lift accessible acres, and 5000 acres of backcountry, it'll be days before you've experienced all this mountain has to offer. And the seven lifts mean you won't be waiting in long lines to get back to the top and do it all again. But ski trails and lifts mean nothing if there isn't plenty of snow and vertical. 300+ inches of snow, cold weather for plenty of powder, and 2800 vertical feet mean you'll want for nothing on this ski mountain. Tamarack's ideal conditions, acres upon acres of lift-accessible terrain, and plenty of sunny days make for wintertime perfection.
Tamarack Resort — Mountain Stats
Skiers and snowboarders alike love hitting the slopes at this resort. Here is what skiing Tamarack looks like:
2800 vertical feet
300 in of average snowfall
50 named runs
1100 lift accessible acres
5000 acres backcountry
7 lifts
3 terrain parks
Onsite dining
Onsite lodging
Ski School
Snowmaking
Lift cost – $75 for an adult day pass
More Than A Ski Mountain — Tamarack Excels No Matter The Season

While Tamarack is one of the best ski and snowboard resorts in Idaho, the fun doesn't stop when the snow melts. With the Payette Mountains to the west and Lake Cascade immediately to the east, every season is loaded with adventure. Mountain biking, hiking, zipline tours, and more await those looking for spring, summer, and fall outdoor activities. From lakeside to mountain top and tame to extreme, there's something for everyone at Tamarack Resort.
Check out what you can experience when you visit Tamarack:
Lift accessible mountain biking
Hiking
Waterfront rentals on Lake Cascade
Zipline tours
Boating
Kayaking
Paddleboarding
Whitewater rafting
Pickleball
Disc golf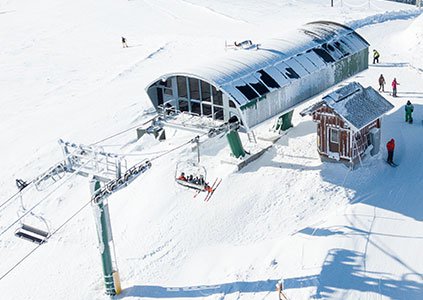 Rest Well So You Can Play Hard — Lodging At Tamarack

No vacation is complete without a quiet, comfortable room to help you rest at the end of the day. Fortunately, Tamarack has plenty of lodging options like hotel rooms, studios, and condominiums at the Lodge at Osprey Meadows. However, there are various cottages, chalets, estate homes, and townhomes for those seeking a home away from home.
From weekend getaways to weeklong stays, the selection of accommodations at Tamarack means you'll find exactly what you need for your vacation.
Amenities Galore — Want For Nothing At Tamarack

As any first-class place should, Tamarack offers guests a host of amenities that make for a luxurious experience. The lodge is complete with a large fitness center, steam room, outdoor hot tub that is open year-round, and a large pool and spacious patio that operates from Memorial Day to late September.
Since Tamarack is a family-friendly destination, parents often take advantage of the Wildhorse Daycare — a state licensed daycare centrally located in The Village. Having a safe and trusted place to send the kiddos means parents can enjoy a massage at The Spa at Tamarack. But relaxation isn't just for parents; anyone can enjoy the variety of treatments available at this lavish, full-service spa.

Complete your day with a great meal and delicious cocktails at any one of several onsite restaurants. But if you want a night in, The Village Market at Tamarack is stocked with a wide variety of groceries. So, if you forgot something at home or need to satisfy that unexpected craving, you'll find what you need here. Pick up your favorite wines and beers, discover some new ones, or grab the ingredients you need to make dinner at this conveniently located market.
A World All Its Own — Tamarack Resort Is Idaho's Premier Destination Resort

It's no wonder so many people are making Tamarack Resort their vacation destination of choice. With a well-appointed ski mountain, complete with more than a half-mile of vertical drop, some of the best powder in the state, and thousands of lift-accessible backcountry, winter enthusiasts see visiting Tamarack as a no brainer. But throw in the host of year-round activities, top-notch lodging options, many amenities, onsite shopping options, and a gorgeous mountain landscape, the real question isn't why would you come to Tamarack — it's why would you ever leave?