The Best Skiing in Idaho – Tamarack Resort
Skiing in Idaho at Tamarack leaves little if anything to be desired. With ample ski trails, varied mountain terrain, the most vertical drop in the area, and plenty of lifts to keep lines from getting long, every skier and snowboarder can find their winter fix at this Idaho ski resort. Add the backcountry access, Nordic trails, enticing food choices, and ample lodging options to the mix, and there is only one question left to be answered about the best skiing in Idaho.
What are you waiting for?
Experience The Best Skiing Idaho Has To Offer
Skiers and snowboarders dream of big ski runs, carving up mountains, and major vertical drop. We are all asking the same questions about our winter fix — when will it snow, how many inches of powder will we see this year, and where is the best place to hit the slopes?
The last question is easy — Tamarack.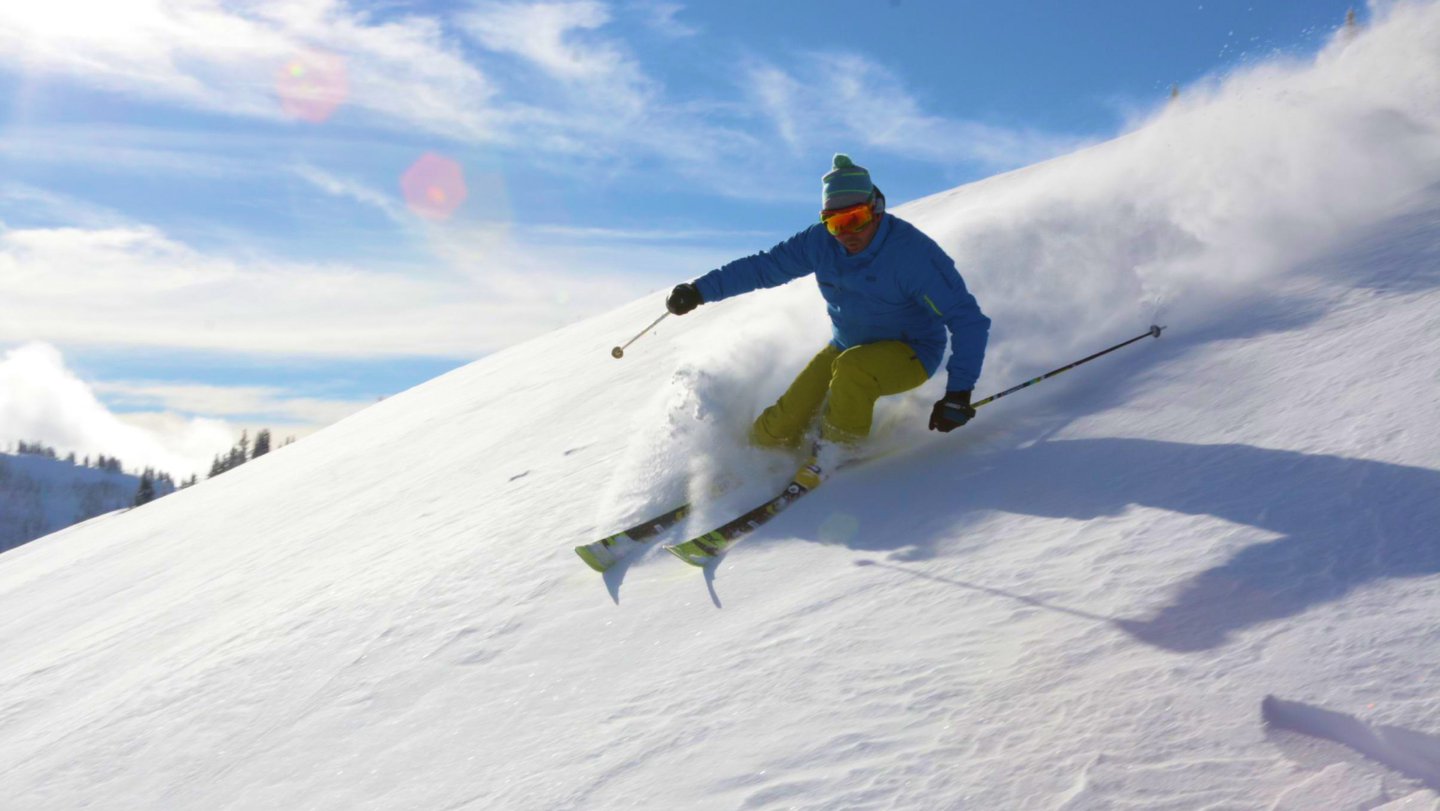 A Destination Resort In Idaho For Mountain Activities
Soon, ski edges will be sharpened, snowboards will be waxed, and the rush for lift tickets will ensue. And, as many people begin looking for places to spend their winter weekends or stints of vacation for ski/snowboard season, a lot of eyes are turning to the northwest, namely Idaho. The many mountains and vast forested terrain of this sparsely populated state are grabbing people's attention while simultaneously taking their breath away.
A stunning mountain escape that boasts some of the best ski runs and terrain parks in Idaho
Idaho has become a destination for nationwide vacationers and transplants alike, and for good reason. Much of the state's appeal is the abundance of outdoor winter experiences found at places like Tamarack Resort — a stunning mountain escape that boasts some of the best ski runs and terrain parks in Idaho. Whether it's downhill skiing, snowboarding, backcountry skiing, Nordic skiing, or snowshoeing; thrill-seekers, weekend warriors, and recreational adventurers are recognizing Idaho as the place to be, and many are choosing Tamarack as their preferred resort.

The Ski Mountain at A Glance
Located 90 miles north of Boise, Idaho, Tamarack is a four-season destination resort known for incredible snow, impressive vertical drop, acres of expansive terrain, and stunning views. Tamarack sits among the Payette River Mountains just southwest of Donnelly and 20 miles south of McCall. This spectacular mountain escape rests on the shores of Lake Cascade with a base elevation of 4900 feet and rises more than half a mile into the mountains to the west.
Incredible snow, impressive vertical drop, and acres of expansive terrain…
Couples, families, friends, and solitary adventurers have turned to scratching their wintertime itch with the best Idaho has to offer at this year-round resort.
Here are just a few reasons why people are making Tamarack their ski destination of choice:
Vertical drop of 2800 feet
7 lifts (three High-speed quads)
Annual snowfall average of 300 inches
Three terrain parks
Some of the best powder in Idaho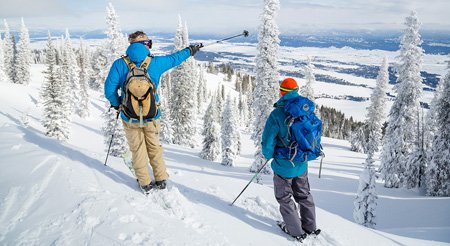 An Idaho Mountain Resort With Endless Adventure
With a place like Tamarack Resort, there are many reasons this mountain community stands out as one of the best wintertime destinations in the state. At first glance, the resort's excellent snowfall, notable vertical drop, and many acres of varied mountain terrain stand out, but these are just the tip of the proverbial iceberg. A closer look reveals there is so much for skiers, snowboarders, backcountry junkies, Nordic skiers, snowshoers, and fat bikers alike.

The Downhill Ski Breakdown
From novice to expert, the host of runs for all skill levels mean there is something for everyone hitting the slopes in this mountain paradise. Whether you're looking for easy ski runs with expansive views, something to push your skills to the next level, steeper technical terrain, or sheer insanity, Tamarack offers trails for every skill level.
Hit a beginner run like Waltz, Sugarloaf, or Homestead to test your new gear, loosen up the muscles, or make your first foray into skiing or snowboarding. Designed with newbies and the laidback skier in mind, these runs are easy on the joints and afford you the chance to hit the slopes with little technical effort.
Once you're warmed up, explore more of the mountain on intermediate ski trails like Enigma or Serenity. Fueled with slightly steeper terrain, more significant turns, and the opportunity for more speed, the intermediate runs at Tamarack are a favorite for many.
For the more skilled skier and snowboarder, demonstrate your ski prowess on Showtime or find your happy place on Upper Bliss. But be careful, these are the gateway runs that push your reflexes, test your control, and have you craving more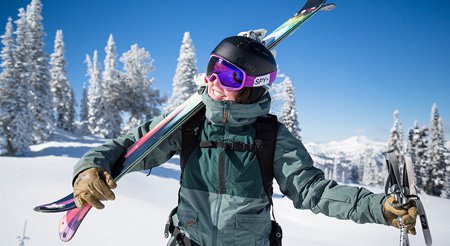 Tamarack offers trails for every skill level…
If you're game, unleash your adrenaline-fueled crazy on black diamond ski trails like Oo-la-la, After You, or Me First. Created for the advanced ski and snowboard enthusiast, these runs will take your breath away.
Experience the Magic of Tamarack
50 well-designed ski and snowboard runs
The ski trails at Tamarack are the perfect blend of man's creativity and the mountain's beauty.
1,100 acres of ski terrain accessible by lift
With this much terrain easily accessed by lift, you're going to need days to experience it all.
17% novice ski terrain
The beginner runs at Tamarack are just what those new to the sport need to build confidence and skill.
45% intermediate skiing terrain
With a wide range of ski trails that fall into the intermediate category, there is plenty of opportunity to gradually push your skills to the next level.
38% advanced ski terrain
Black diamond magic abounds on the fantastic Idaho ski mountain. Regardless of the ski trails you choose, every run provides cinematic views of Lake Cascade and the valley below. Winter beauty at its finest.

A Ski and Snowboard Experience For The Unconventional
Not everyone wants to spend their day bombing down the mountain. Some snow enthusiasts seek adventure of a different kind. Those who prefer to grind rails, test their big air skill on halfpipes, or perfect spins on a funbox will be happy to know there are three terrain parks on the mountain. Located in close proximity to one another, these snow parks offer something for every skill level — whatever you fancy; there are plenty of Jibs to be found.
Scratch Your Backcountry Itch
Untouched powder and open mountain terrain are huge draws for many who find their way to Tamarack. With an elevation of 7,700 feet, backcountry enthusiasts can ride the Summit Express (high-speed detachable quad) to Tamarack's highest point, where you can experience the magic of untouched snow.
Untouched powder and open mountain terrain are huge draws…
Coming off the lift, turn to the left and traverse south to places like Grouse Bowl and Summer's Ridge. Just make sure to stay to your left so you can work your way back toward the lifts and do it all again.
There is also plenty of accessible backcountry terrain to the north. When you reach the top of Summit Express, head right and traverse north to find all the bowl skiing and snowboarding your heart desires. Wildwood Bowl, Halfmoon Bowl, and Banana Bowl are the perfect combination of powder stashes, quick vertical drop, and views like no other.

Ski Lift Mania
Beyond the majestic views, hosts of deep powder, and remarkable vertical drop, another reason Idaho's Tamarack Resort is a winter destination of choice can be summed up in one word – lifts. With three high-speed detachable quads, two fixed-grip quads, a surface lift, and a magic carpet for the beginners, waiting in line isn't a worry. Get in all the runs you want with time to spare as you explore all Tamarack Resort has to offer.
Tamarack Express
A high-speed detachable quad with 1700 feet of vertical rise and access to the main part of the mountain.
Summit Express
This high-speed detachable quad with 1100 feet of vertical rise takes skiers and snowboarders from the middle of the mountain to the summit.
Wildwood Express
Providing ample access to the northern part of Tamarack, this high-speed quad climbs 1646 feet.
Buttercup Chair
This fixed-grip quad gives easy access to the mountain from Whitewater Estates on the north side of the main lower section of Tamarack.
Discovery Chair
Another fixed -grip quad with access near Discovery Square
Rock Creek Poma
This surface lift takes riders to beginner runs like Discovery and Rock Creek
Mutton Buster
There is nothing like a magic carpet to keep the kiddos moving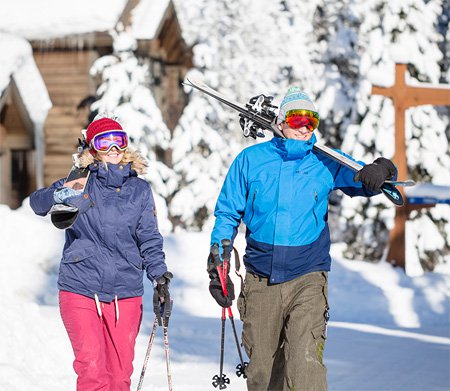 The Best Nordic Skiing, Snowshoeing, and Fat Biking Idaho has to Offer
The snow-covered Nordic Trails of this resort take those who prefer Nordic skiing, snowshoeing, or fat biking on 15 miles of winding, machine-groomed trails. Experience the wonder Idaho has to offer as you cross quiet meadows, weave through tall pine trees, and gaze over the frozen waters of Lake Cascade.

For the Beginner Skier and Snowboarder
Some ski and snowboard enthusiasts are born, others are made, but all have to start somewhere, and those who embrace expert guidance are way ahead of those who choose to learn on their own. Tamarack's Winter Sports School is staffed by certified instructors and coaches ready to help beginners or children get a jump start. But their experience also means the available private and semi-private lessons can raise your level of talent regardless of current skill.
Staffed by certified instructors and coaches ready to help…
In addition to lessons geared toward taking your skiing and snowboarding to the next level, Tamarack's Winter Sport School offers Backcountry Experience. This alchemy of classroom instruction and on-the-snow-training helps intermediate skiers and snowboarders understand backcountry dynamics and hone the necessary skills to push the limits while keeping safety paramount.
Don't Have Gear Or Need A Tune? Don't Worry
Whether you're a beginner skier testing the powder or an experienced snowboarder looking to demo top-of-the-line gear, the rental shop at Tamarack has you covered. Their well-trained techs at this full-service shop are ready to get you the right gear, with the right fit, so that you can have the best experience.
Sometimes your skis or snowboard need a little love after a day or two on the slopes. The techs in Tamarack's full-service repair shop use their state-of-the-art equipment to make sure your edges are sharp, and your skis or board are waxed to perfection.
Your job is to have fun on the mountain. Their job is to make sure you can do yours.
Food and Beverages Galore
While the mountain is a big part of your skiing or snowboarding experience, a weekend on the slopes isn't complete without a good meal and some tasty beverages. Start your day off right with a jump-start from Clearwater Coffee. Using beans roasted at Idaho's very own Doma Coffee Roasting Company, Clearwater has just what you need to get going in the morning.
Bombing down run after run can work up quite the appetite. Fortunately, Idaho's best ski resort has plenty of options to fuel your body and mind so you can get the most out of your skiing experience. Choose from tacos and tequila at the top of the slope, food truck fare by the Discovery Chair, or sit-down dining in the lobby of the Lodge at Osprey Meadows.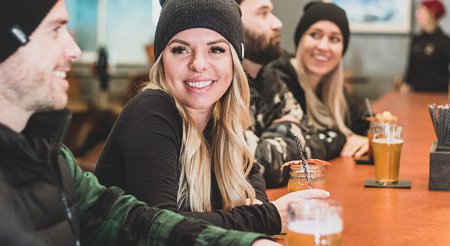 And if you just want to pick up some groceries or snag some beer or wine to take back to your room, you can hit the Village Market.
Find whatever your stomach wants/needs to complete your ski vacation at:
Mountain Bites food truck (by the Discover Chair)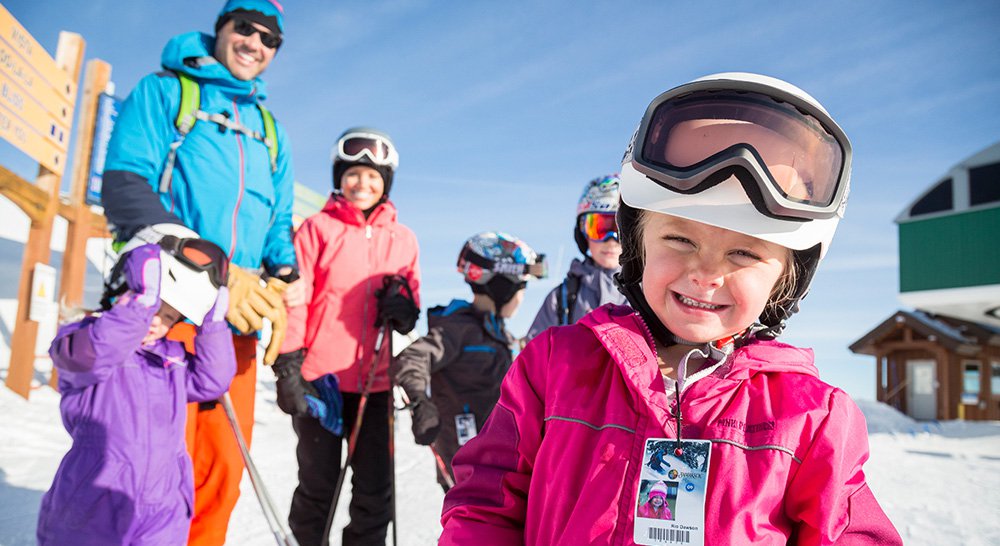 A Ski Home Away From Home
A day on the slopes can really take it out of a person, which means a good night's rest is important if you're going to get up and take on the mountain multiple days in a row. Some skiers and snowboarders choose to spend their nights in nearby Donnelly or McCall, but most have discovered the wonder of staying at one of the many onsite lodging options at Tamarack. Quaint retreats from the winter cold can be found in the Lodge at Osprey Meadows or one of the many cottages and chalets. If you require more space, there are plenty of townhouses and estate homes to choose from and all at reasonable prices.