Ski Resorts and Skiing Near Boise, Idaho
Skiing near Boise, Idaho – It's no secret anymore and it is getting the attention of ski enthusiasts across the country. Serious skiers want deep powder, major vertical drop, and ski resorts with a variety of runs — and many are on the hunt for the next great place to ski.
Boise, Idaho is one of those next great places. Some come to visit while others come to stay in the Treasure Valley's largest city. And for many of the visitors and residents, the draw is the vast mountainous terrain, plenty of outdoor adventure, and all the skiing one could hope to find.
Throw Boise Airport into the mix, and it's no wonder Idaho's capital is becoming a favored city among skiers across the USA. With nonstop airline access to 16 major cities, Idaho is drawing skiers and snow lovers from far and wide.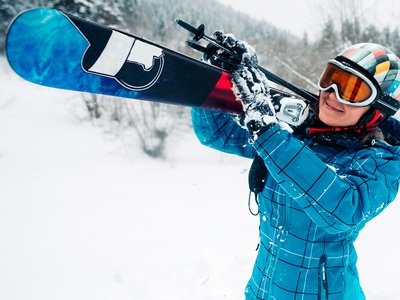 One of the Best Places In The Country To Live Or Visit
— And There's Plenty of Skiing

Boise has something for every skier within a few hour's drive…
As one of the top five places to live in the USA, Boise, Idaho has a lot to offer the outdoor enthusiast. Extensive mountain terrain, plenty of lakes, and hundreds of miles of trail (all within a short drive) give residents and visitors endless adventure choices. While Idaho's capital excels in every area of outdoor recreation, few cities can claim a small-town feel while having easy access to multiple ski resorts. With thousands of acres of lift accessible runs, ample vertical drop, superb resort lodging, incredible backcountry, and a wide variety of delicious dining options for every palate, Boise has something for every skier within a few hour's drive.
Ski Mountains Close To Boise
Idaho is full of skiing options. This quiet state is home to 18 ski resorts, ranging from small to large. With a host of mountain ranges, there's plenty of places for skiers to choose from, but only a few are close to a major airport. From the start of ski season, till nearby mountains close in the spring, baggage claim at Boise Airport is visited by ski gear from every brand, for every skill set, from all around. Whether you're a resident or just visiting, there are four ski mountains close to Boise:
Tamarack Resort
Brundage Mountain
Little Ski Hill
Bogus Basin
Depending on what you're looking for, each of these mountains has plenty about them to love. Idaho's newest destination ski resort, Tamarack, lays claim to the most vertical in its area, plenty of snow, and some of the best dining and lodging options in the state. Brundage Mountain, a non-destination ski resort, boasts great snow, big vertical drop, and variety for every skill level. Little Ski Hill and Bogus Basin are also non-destination ski resorts that offer hosts of family fun and night skiing options. Let's see what each of these ski mountains has to offer.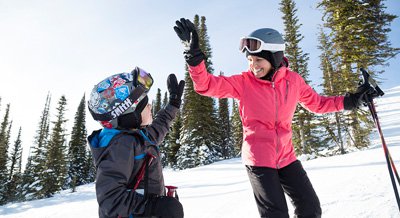 The most vertical in its area, plenty of snow, and some of the best dining and lodging options in the state…
Tamarack — The Destination Ski Resort That Has It All
Located 95 miles north of Boise, Tamarack leaves nothing to be desired. With by far the largest vertical drop in the McCall area, ample runs for every ski level, plenty of lift options, and three terrain parks, Tamarack resort meets every skier's wants and desires, regardless of skill level. Add in the multiple dining options, the plethora of on-site lodging options, and reasonably priced lift tickets, and Tamarack just might be the ski resort you never leave.

Tamarack Resort — Idaho's Not So Best Kept Secret
Snowfall avg. – 300 inches
Vertical drop – 2800 feet
7 lifts
50 named ski runs
3 terrain parks
Lift ticket cost – adult day pass – $75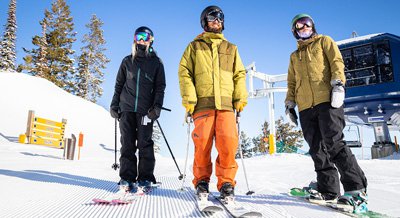 Tamarack Ski Resort
The closest destination ski mountain in the area, Tamarack is a 2-hour 13-minute drive north of Boise. A wonderful location where skiers experience more than a half-mile in drop, powder galore, and short lines to some incredible runs.
Tamarack is the closest destination ski mountain in the area…
Options for the Backcountry Skiing Enthusiast
While many skiers prefer the downhill experience, some desire a solitary adventure in bowls of deep powder paired with majestic views. For those seeking backcountry solitude, Brundage Mountain and Tamarack Resort offer thousands of acres of backcountry skiing opportunities. And all within a short drive from Boise.

Fantastic Skiing Is Just a Flight A Way
Nearly every mountain range across the United States is home to a ski resort or two, but a drawback of some is airport access. It's not uncommon for skiers to drive to area airports and fly several hours only to hop in a car and drive 4+ more hours before arriving at their destination. Skiing Idaho is different. Whether you're visiting or call the Treasure Valley home, there are plenty of skiing options near Boise, and the multiple nonstop flights to Boise Airport make it an easy choice for skiers.
Boise's nonstop flights offer skiers across the USA easy access to some of the best snow Idaho has to offer
Nonstop flights to Boise:
Chicago, IL (ORD) to Boise, ID (BOI) – 3h 46m
Dallas/Fort Worth, TX (DFW) To Boise, ID (BOI) – 3h 18m
Denver, CO (DEN) to Boise, ID (BOI) – 1h 50m
Houston, TX (IAH) to Boise, ID (BOI) – 3h 59m
Las Vegas, NV (LAS) to Boise, ID (BOI) – 1h 45m
Los Angeles, CA (LAX) to Boise, ID (BOI) – 1h 55m
Minneapolis, MN (MSP) to Boise, ID (BOI) – 2h 56m
Oakland, CA (OAK) to Boise, ID (BOI) – 1h 30m
Phoenix, AZ (PHX) to Boise, ID (BOI) – 2h 5m
Portland, OR (PDX) to Boise, ID (BOI) – 1h 8m
Salt Lake City, UT (SLC) to Boise, ID (BOI) – 1h 9m
San Diego, CA (SAN) to Boise, ID (BOI) – 2h 10m
San Francisco, CA (SFO) to Boise, ID (BOI) – 1h 37m
San Jose, CA (SJC) to Boise, ID (BOI) – 1h 35m
Seattle, WA (SEA) to Boise, ID (BOI) – 1h 20m
Spokane, WA (GEG) to Boise, ID (BOI) – 1h 9m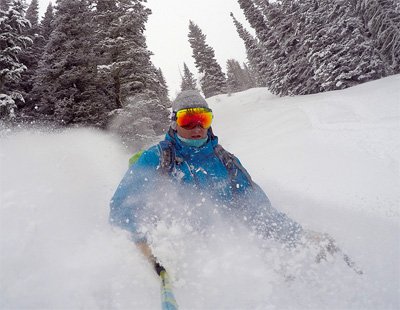 With so many nonstop flight options, even those who call the east coast home can be in Boise within just a couple of flights. A quick drive and you will be at your Idaho ski resort of choice.
A Short Drive To Ski Mountain Magic
The drive times to the resorts within reasonable driving distance of Boise are minimal, and the car rides take skiers through some of Idaho's many beautiful mountains.
Big vertical, acres of mountain terrain, backcountry madness, plenty of snowfall — whatever your skiing heart desires, you can find just what your wintertime itch needs at one of these ski resorts near Boise. So come join us on one of the many groomed runs, get waist-deep with us in white powder, or enjoy a cold (or hot) beverage with some great food and we'll raise a glass to a fantastic ski season in Idaho.

Brundage Mountain
Sitting 9 miles to the north of McCall, Idaho, Brundage Mountain is home to wide groomed runs, major snowfall, big powder, and delicious food with great pricing — all necessary ingredients for a successful day on the ski mountain. With plenty of runs from beginner to advanced, there is something for everyone to enjoy. They even have a drive-up daycare and children's center so parents can embrace the 1900 plus feet of vertical drop. And waiting in line is rarely an issue as they have 6 lifts to keep people moving up and down the slopes. The Brundage Mountain Snapshot
Snowfall avg. – 320 inches
Vertical drop – 1921 feet
6 lifts
51 named ski runs
2 terrain parks
Lift ticket cost – adult day pass – $73
Little Ski Hill
While Little Ski Hill is one of Idaho's smallest resorts, what it lacks in size, it makes up for in charm and history. This resort is a little over 2 hours north of Boise and rests just 2 miles north of McCall, Idaho. For more than 75 years, this quaint hill has been a staple for the ski community — a great place to bring the family for a day of fun in the snow. They even have night skiing and an airbag-equipped terrain park where you can perfect your tricks. The Little Ski Hill Breakdown:
Snowfall avg. – 180 inches
Vertical drop – 405 feet
1 lift
4 named ski runs
1 terrain park
Lift ticket cost – $20
Bogus Basin
Located 18.4 miles northeast of Boise, Bogus Basin sits in the southwestern portion of the Boise National Forest. This ski hill has gained popularity over the years as more people have chosen to relocate to Idaho's capital city. With night skiing, affordable lift tickets, and plenty of runs, Bogus is an excellent choice for many skiers who prefer a short 40-minute drive to the resort and don't mind a busier mountain with longer lines. With plenty of snowfall, bountiful runs, 10 lifts, multiple food options with great pricing, and night skiing, you can't go wrong at this ski resort near Boise. Bogus At A Glance:
Snowfall avg. – 250 inches
Vertical drop – 1800 feet
10 lifts
82 named ski runs
2 terrain parks
Lift ticket cost – adult day pass – $67