Idaho Skiing At Tamarack — A Must Do Every Winter
Tamarack Resort is nothing short of an Idaho skiing phenomenon. Surrounded by seemingly endless recreation and adventure possibilities, Tamarack is rapidly becoming a wintertime favorite for locals and visitors alike.

Located a short 2-hour drive from Idaho's largest airport in Boise, Tamarack sits just south of one of the state's most-loved mountain towns, McCall. This area of Idaho is home to some of the best downhill and backcountry skiing the state has to offer, and the region's beauty is something no picture can do justice.
Destination Ski Resort In Idaho
As Idaho's newest destination resort, Tamarack provides skiers of all types and skill levels whatever their hearts desire. This ski resort brings winter adventure to life with huge vertical, varied terrain, loads of snow, miles of groomed trails, and ample acres of backcountry. So, if your fix is downhill, off-trail, backcountry, Nordic, or cross country, plenty of ski trails and waist-deep powder are waiting for you at Tamarack.
Downhill, off-trail, backcountry, Nordic, or cross country

The Best Resort Skiing Near McCall
While Tamarack is Idaho's newest ski mountain, it has become the ski destination of choice for many Idahoans and vacationers. Sitting on the shores of Lake Cascade, the views alone draw some vacationers. But most come for the mountain. Tamarack's massive 2800 feet of vertical and ideal snow conditions are enough to grab any downhill skier's attention. But combine more than half a mile of drop and 300+ inches of snow with 50 named runs and 1100 lift accessible acres, and it becomes apparent that there are plenty of skiing options for everyone from newbie to adrenaline junky. With seven ski lifts, the lines move quickly at Tamarack, giving you a lot of time on the mountain, and three terrain parks offer plenty of jumps and jibs for those looking to perfect their newest tricks.
Tamarack, Idaho Mountain Stats:
300" of avg snowfall
2800' of vertical
1100 lift accessible acres
7 lifts
50 named ski runs
3 terrain parks
Adult day pass – $75
But not everyone wants to spend their time on groomed runs. Don't worry, if backcountry is what you want, there's plenty of acreage to go around.

Idaho Backcountry Skiing
With more than 20 million acres of national forest, it's no wonder Idaho has a well-earned reputation as a haven of outdoor recreation and adventure. With more than 40% of the state covered in forest, there is no end to backcountry skiing opportunities, which is why Tamarack is the go-to for many out-of-bound enthusiasts — and mountain top lift access makes getting to untouched snow easier than one would think. The Summit Express lift takes those seeking the ultimate in powder and backcountry skiing to the top of the mountain for stunning views and access to 5000 acres of backcountry — this east-facing ski mountain has plenty of bowls to the north and south. In a place like this, you will find all the powder and tree skiing your heart desires.
Tamarack Ski Map
Check out the variety of runs at Tamarack and the easy access to bowls like Wildwood, Grouse, Full Moon, and Banana.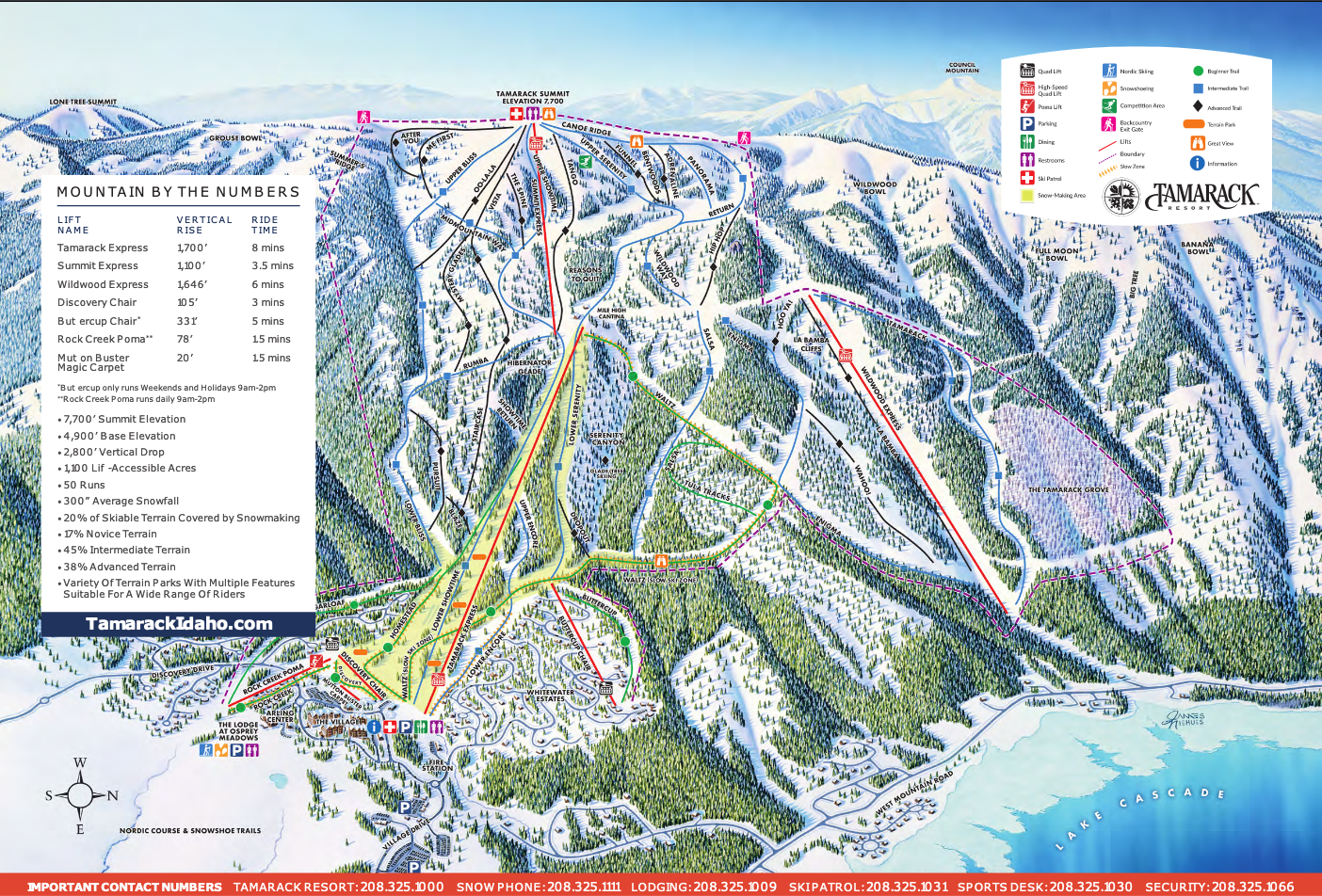 Nordic And Cross-Country Skiing In Idaho

For those looking for a ski experience of another sort, Tamarack's extensive Nordic trail system is sure to deliver. Create the adventure you want as you wind and weave your way through a variety of mountain terrain. Experience the wonder of Aspen groves, fir trees, and Tamaracks as you meander from densely forested trees to tranquil mountain meadows and back again on freshly groomed trails. Every Monday and Friday morning, we groom sections of the Nordic trail system to ensure you have access to more than 25 kilometers of ideal trail.

Portions of Tamarack's network of Nordic paths wind through the village, providing ski access to a variety of lodging options, and the open meadows offer some of the best views of Lake Cascade to the east and the mountains to the west.
Nordic Trail Map
Explore all Tamarack's 25+ kilometer Nordic Trail system has to offer.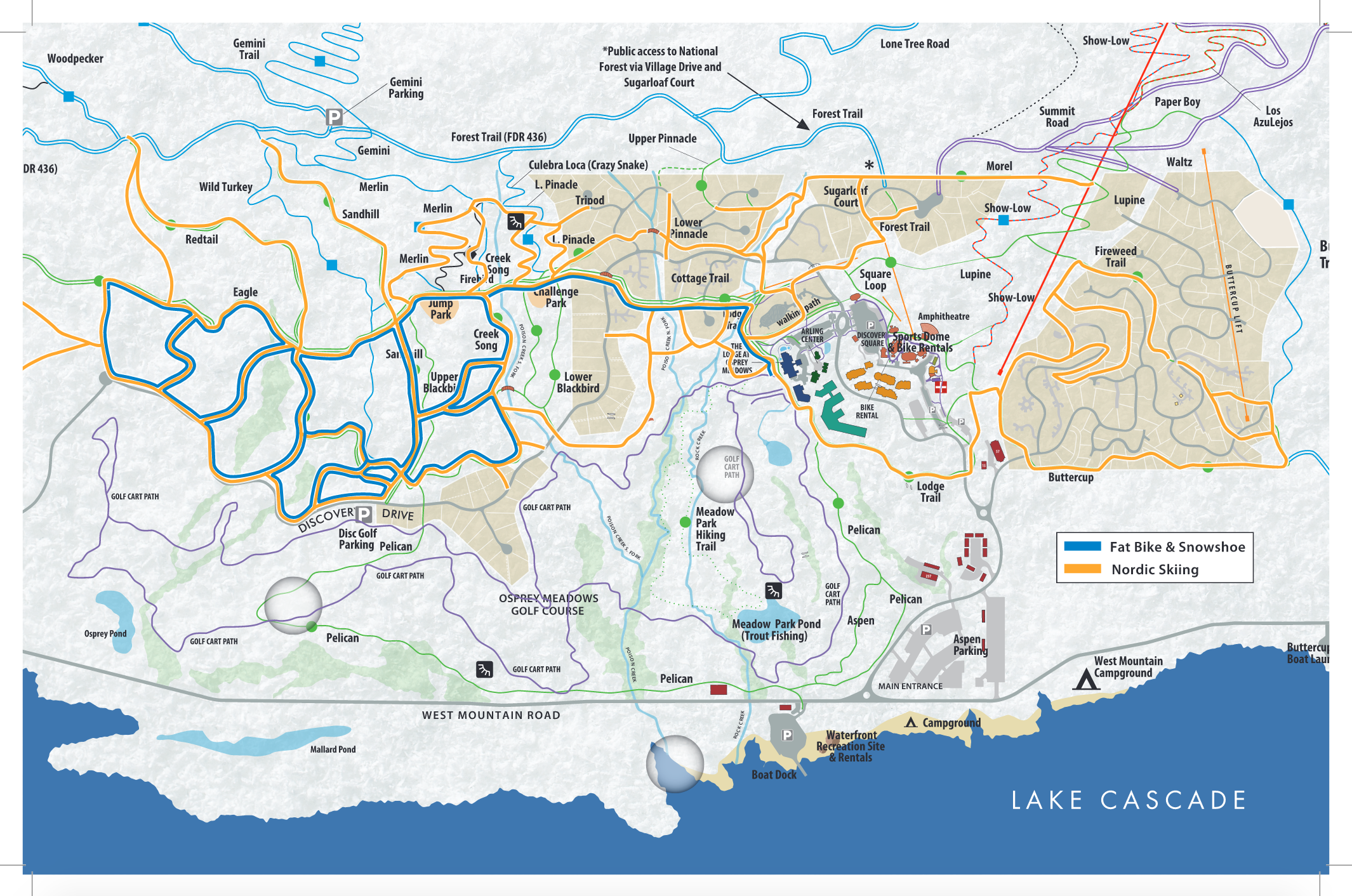 What Are You Waiting For? Prime Skiing Awaits.
This winter, embrace the best skiing Idaho has to offer at Tamarack Resort. Whether you prefer to take leisure runs, bomb down big vertical, ski through trees, venture off the beaten path, or long for waist-deep powder, you will find your adventure of choice in the heart of Idaho at Tamarack Resort. So, join us at Tamarack — enjoy the fresh mountain air and feel the sun warm your chilled face as you ski. There is nothing like floating through blankets of white surrounded by walls of trees where every shade of green points to the brilliance of a wide-open cerulean sky.

There is nothing like Tamarack.