Idaho Mountain Biking

Say the phrase Mountain biking in Idaho in any Idaho coffee shop or restaurant, and it's not a stretch to say you'll have a conversation starter for half the people in the room — simply put, downhill and cross-country mountain biking are in the blood of many Idahoans. And many people outside the state are discovering the splendor one experiences when cycling through Idaho's tree-covered mountains as well. Home to more than 21 million acres of forest, Idaho ranks third in the country's number of national forest acres (only Alaska and California have more). This means there are ample trails and terrain for riders of every skill level. From downhill leisure to screaming fast singletrack to ambling cross country, Idaho has every possible mountain biking scenario covered.
Click Here for More Information - Rentals, Availability and Pricing
covered in downhill and cross-country trails equipped with a lift system that will get you to the top of each run
Sometimes a short day on the mountain is in order; other times call for a destination weekend filled with run after run, plenty of jumps, sharp turns, big banks, and a warm bed to lay your head so you can do it all again the next day. Luckily, Idaho has the perfect year-round destination resort to meet every mountain biker's wants or needs.
Enter Tamarack. Located two hours north of Boise, Idaho, this mountain resort leaves nothing to be desired. Overlooking the waters of Lake Cascade, Tamarack is an east-facing mountain covered in downhill and cross-country trails equipped with a lift system that will get you to the top of each run in short order. When cycling season hits full swing at Tamarack, you'll find what you're looking for.

Get The Most Out Of The Mountain
As the newest destination resort in Idaho, Tamarack offers plenty of year-round outdoor adventure — there is something here for everyone and every season. While Tamarack excels as a ski mountain, this all-season resort does not disappoint during spring, summer, and fall. Resting in the mountains of central Idaho, Tamarack features Mountain bike trails for every skill level and fancy.
Whether you're looking for cross country or downhill, you'll find it here. Let's take a look at what this mountain has to offer.

Tamarack's Mountain Biking Breakdown
When considering spending hours or days cycling on mountain trails, it helps to know what to expect. Tamarack has plenty of elevation, a quick ride to the top of the runs, and a wide variety of trails:
Tamarack Bike Park Stats:
Mid-mountain elevation 6,600 ft
Base elevation 4,900 ft
Vertical drop 1,700 ft
Chairlift (Tamarack Express) 15-minute ride time
Opening Day Projected for late may
Closing Day Mid-September
Days/hours of operation Open 7 days from 10 am to 4 pm
Downhill Mountain bike trails 21 for a total of 25 miles of trail
Beginner trails 9
Intermediate trails 4
Expert trails 6
Extreme trails 2
Cross country trails 15 for a total of 20 miles of trail
Beginner trails 8
Intermediate trails 7
Expert trails 1
With a total of 36 trails, 45 miles of riding options, and a short 15-minute ride up the mountain, everyone can find something here. Of course, the people with an inclination for the downhill will want to know all the details.

From The Tame To The Not So Much — Get Ready For The Downhill Ride
Tamarack's downhill bike park consists of 21 trails creating a fantastic network of paths that require varying degrees of skill. These downhill-only trails bring a host of terrain options to the table. For those new to the sport, the beginner trails are great.
Beginner Downhill Mountain Bike Trails
With nine choices for easy downhill, beginner riders can keep their options open and stay busy for most of the day. Most of these trails connect with more advanced options, so when the adrenaline kicks in and confidence rises, new challenges are right around the corner.
Child's Play — This family-friendly trail starts near the Discovery Chair terminal. A popular, easy-going singletrack, Child's Play has superb trail visibility.
Les Mer De Fleurs — Appropriately named, riders will find themselves taking in the colors and fragrances of mountain flowers on this easy singletrack trail.
Apollo — Almost a mile long, Apollo offers a modest climb and a comfortable 225 feet of drop. Watch out for hikers and trail runners.
Paper Boy — This short but fun trail is an excellent place for kids or newbies to test some speed without facing any technical turns.
Pura Vida — Though there is some climbing here, the trail has a nice downhill flow with some banked corners. This is a fast trail that takes riders through some of Tamarack's forested areas with no major obstacles to worry about.
Huckleberry — New riders will instantly feel at ease on this wide and well-maintained trail. The turns and flow of Huckleberry are great for beginning riders.
Square Loop — Sitting at the bottom of the mountain, this trail connects to Discovery Square, giving riders access to some much-needed food and drink at the resort's restaurants, coffee shop, and store.
Lupine — A singletrack for mountain biking only, Lupine offers a few switchbacks and some banked corners as it winds to eventually connect with Show Low.
Azulejos — This beginner trail offers beginners a host of options for fun. Easy flowing berms wind through densely forested areas, and the series of tight turns at the end is a fantastic way to push your skills from beginner to intermediate.

Intermediate Downhill Mountain Bike Trails
Four intermediate trails are ready for beginners to stretch their wings or for more experienced riders to warm up their muscles and tires. Some of these are favorites among expert riders because of the opportunity to open while hitting some great jumps.
Super G — Littered with jumps and berms, riders are bound to love hitting the table tops of this exciting run. There is even a great wallride, but make sure to take it at speed.
Show Low — This mile-long trail is popular among locals. With almost no climb, the trail has a great jump line where riders can catch some air before hitting a series of big berms.
Dirty Blonde — Accessed from Apollo, this trail is fast and smooth. Drop into the heart of Serenity Canyon and take in the stunning views. Get ready for a couple of creek crossings.
Hockey Mom — For the rider looking to step things up a bit, the corners, berms, and jumps found throughout this trail will let you know if you're ready for something more serious.

Expert Mountain Bike Trails
When Tamarack's downhill mountain bike park was being designed, they clearly put some thought into things, especially the more difficult trails. Each one is unique and brings a variety of challenges to riders looking for ways to push their limits.
Curtains — Riders hitting this trail better be ready for speed because it's all about the downhill. With an average grade of -12+% and a section that hits -30.5%, you'll have everything you need to hit the gap jump.
Hells Canyon — Running parallel to Curtains, Hells Canyon is sure to fuel your adrenaline fix with its camber corners you will want to take at speed and a gap jump that is sure to get your heart racing.
Hot Shot — If you are feeling fast and loose, this one is for you. What begins as narrow and steep hits riders with technical obstacles at every turn, eventually leading to a ladder gap and finishing with plenty of berms to knock you around.
Smokejumper — Filled with steep banking corners, big drops, and a max grade of -51%, you might feel like you just jumped out of a plane. Make sure to take advantage of the rock features.
Hibernator — Pushing the limits of an expert trail, Hibernator is not for the faint of heart. Riders will be challenged from the get-go as they hit a rock jump over a tree. The trail doesn't let up as bikes take the abuse of more jumps, super steep downhill, and drops throughout.
ESR — Fast and furious, Exit Stage Right or ESR is filled with hard turns. A great place for riders to test their reflexes. If you are ready for it, you'll love the big wallride.

Mountain Bike Trails for Extreme Riders Only
Rockstar — A fan-favorite among the most experienced riders, Rockstar features some challenging rock gardens and a huge slab that ends in a wicked drop. The perfect place to get seriously technical.
Stage Fright — Short but highly technical Stage Fright takes expert riders directly under the Tamarack Express chairlift. Dropping 50 feet over a distance of 269 feet, this trail features one incredibly technical rock garden.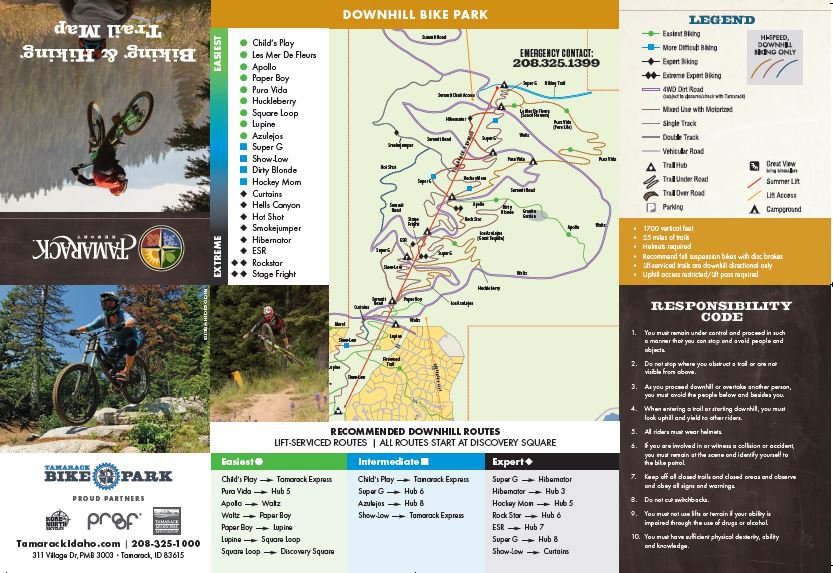 Downhill Trail Map And Recommended Routes
The network of downhill mountain bike trails at Tamarack gives riders plenty of options for downhill riding. Check out the trail map and some of the recommended downhill routes here:
No Lift Ticket Needed — Cross Country Mountain Biking At Tamarack
The 20 miles of cross-country mountain bike trails at Tamarack are a great way to experience the beauty of this mountain escape while still getting a great workout. Because no lift access is necessary, the 15 cross country trails are open from sunrise to sunset. Don't be surprised when you see E-Bikes, hikers, and trail runners; these are all multi-use trails.
Beginner Cross Country Mountain Bike Trails
Ambling along the eight beginner trails allows users to take things at a slower pace. Splendor abounds as rides wind through forests and meadows. Pedaling these trails is a great way to take in the sunrise on cool summer mornings — you can't beat the view of the sun cresting the mountains to the east with flickers of gold reflecting off of the calm surface of Lake Cascade.
Cottage Trail — Primarily a biking path, it is not uncommon to see hikers, runners, and dogs on this easy-going gravel trail. Running north to south, Cottage Trail connects Lodge Trail to Sandhill and Redtail.
Lodge Trail — Starting at the north end of Cottage Trail, Lodge Trail is an ideal mountain biking bath to take for easy access to the Lodge at Osprey Meadows. To the east, riders can take in incredible views of Lake Cascade.
Eagle Trail — With only 43 ft of altitude change over a distance of 3000 feet, Eagle Trail is a great connecting trail to Wild Turkey, Sandhill, Merlin, Creek Song, and Blackbird. This is a popular trail for runners, hikers, and mountain bikers to use to access the cross-country trails on the southside of Tamarack.
Sandhill — Offering cross-country riders a place to open up on the downhill or embrace a short climb, depending on the direction, Sandhill has a 223 ft change in elevation over a distance of 3500 feet. A gravel path with sections as steep as 28%, it is an excellent place to get the heart rate up.
Upper Blackbird — Sometimes referred to as Lower Merlin, Upper Blackbird is a singletrack trail that connects Eagle Trail and Merlin with Lower Blackbird and Pelican.
Lower Blackbird — A two-way, singletrack trail that starts at the east end of Sandhill, Lower Blackbird gives riders a chance to pump a little extra as they embrace a 100 ft climb as they approach the north end of Eagle Trail.
Morel – While this trail is multi-directional, many riders use it as access from Summit Road to Forest Trail 436 or Lower Pinnacle. From Summit Road, riders get some nice downhill single track with a quick descent. Looking for a short climb? Simply head the other direction.
Pelican — A comfortable 2-mile singletrack, Pelican connects the middle of Lodge Trail to the north with Sandhill to the south. The trail takes riders through various landscapes and offers close up views of the lake as it parallels West Mountain Road.

Intermediate Cross Country Mountain Bike Trails
For the riders not looking for intense downhill but wanting a more challenging ride, the intermediate cross country trails at Tamarack will get the muscles nice and warm. With six to choose from, these mountain paths bring more varied terrain than the beginner trails.
Lower Creek Song — Running almost directly west to east between Lower Pinnacle and Eagle Trail, the beginning of Upper Creek Song gives riders a quick taste of downhill. This two-way singletrack has an average grade of 12%. So get ready to climb or test your speed.
Lower Pinnacle — Riders enjoy the nice climb on Lower Pinnacle as they head south from Morel to Firebird or Merlin. This ride has a greenbelt feel as the trail winds amongst some beautiful homes in the area.
Wild Turkey — One of the southernmost trails at Tamarack, Wild Turkey is nearly a mile of cross country singletrack. If riders head downhill, they will still hit some good climbs. Those who opt for the other direction need to be nice and warm — the climb up is certainly manageable, but it is longer and more difficult than it looks.
Merlin — Running north off Sandhill, Merlin winds in and out of trees over undulating hills until riders hit a three-way fork. Continue north on Lower Pinnacle, head south on the challenging Firebird, or head southeast to stay on Merlin. Here, the trail continues through a forested section, eventually opening up to a field and some quick downhill.
Gemini — Zigzagging through thick trees, Gemini feels a lot like downhill mountain biking. With sharper turns than many other cross country trails, riders will get the chance to use their brakes more frequently going down or test their climbing prowess when headed up. You can't help but have fun on this trail.
Crazy Snake (Culbera Loca) — Named for the way it winds down the mountain, Crazy Snake tees off the east side of Forest Trail 436. The snaking back and forth is gentle at first, but once the trail crosses Lower Pinnacle, this singletrack really earns its name with plenty of turns to up the day's thrill.

Extreme Cross Country Mountain Biking Anyone?
Cross country mountain biking and extreme aren't often uttered in the same sentence, but when they are, it is time to pay attention. Though there is only one black diamond trail in Tamarack's collection of cross country trails, this one is worth hitting over and over.
Firebird — Short and fast, Firebird is one constant downhill (or uphill if you're feeling tough). Head south off of Lower Pinnacle straight into a grove of trees. Shortly after the trail opens up, riders hit some fast turns. The trail is just long enough to open up before the last series of turns takes you to Eagle Trail.

Cross Country Trail Map And Recommended Routes
Tamarack's cross country trails are a great way to enjoy some time in the piney woods. Different combinations of trails can make for an easy day or test one's endurance. Here is the cross country trail map as well as some great routes that will have riders coming back for more.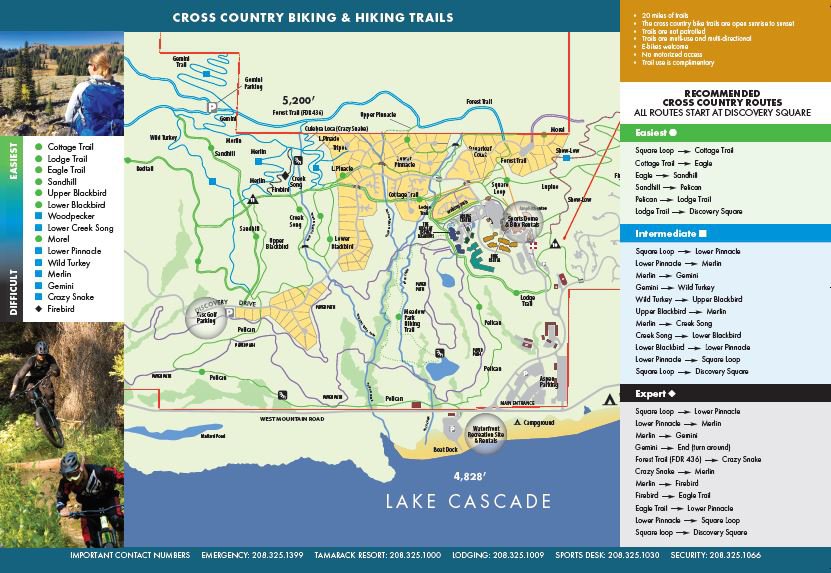 Tamarack Is Truly A Full-Service Mountain Biking Destination
It's easy to see why so many people are choosing Tamarack for their mountain biking fix. The variety of trails for both downhill and cross country mean the hardest decision one will make is where to start. While that may be a problem for some, getting on the mountain is not. With season passes and day passes for the lift, day-trippers and weekend warriors can get to the top of Tamarack with ease. If you don't have a bike or want to try something new, no problem — the rental shop has everything a rider could ever need.
Tamarack Season Passes and Lift Tickets
The Boundless Pass is definitely the biggest bang for your buck as it gives patrons year-round access. For those looking for just bike access a season pass to Tamarack's downhill bike park is a reasonable $139 — definitely a great way to go for the mountain biker who plans on frequenting the mountain. Day passes are affordable for those who want to test things out. Remember, the lift is the only way to access Tamarack's amazing network of downhill trails.
Boundless Pass
By far the best way to take advantage of everything Tamarack has to offer, the Boundless Pass gives pass holders year-round access to the lifts. Ski-mountain access, bike-park access, cross-country rentals, and paddleboard/kayak rentals are included.
Individual and family passes available. For a full price list, click here:
Bike Park Season Pass
Bike park season passes include two complimentary tickets to the bike park at Silver Mountain in Kellogg, ID.
Day Lift Ticket Prices
Full-day (10 am to 4 pm)
Half-day (1 pm to 4 pm)
Get The Gear You Need At Tamarack's Bike Rental Shop
If you don't want to haul your bike to Tamarack, or you're looking to test the mountain biking waters, Tamarack's bike rental shop has you covered. Cross country or downhill, they have every option, for every age and skill level.
Bike Rentals
From cross country to hardcore downhill, expect to be equipped with the best. If you need some protection, they have that too! You can even get a tag-a-long so the wee ones can join you on your rides.
Here's a snapshot of rental options: Click Here for Current Rental Prices
XC – Half-day – Full-day
Junior Cross Country (<=12yrs old) – Half-day – Full-day
Premium Adult Downhill – Half-day – Full-day
All-Mountain Enduro – Half-day – Full-day
Junior Downhill (<=12yrs old) – Half-day – Full-day
Tagalong $25 – Half-day – Full-day
Adult/Junior Helmet
Adult/Junior Full-face Helmet
Adult/Junior Armor $8 Half-day Note: Helmet are required to enter the bike park
Downhill Packages
Some people are looking for the full meal deal when it comes to gear. Fortunately, the rental shop has some great all-in packages to get you ready and keep you safe.
Each package includes:
Full-face helmet
Pads
Downhill bike
Lift ticket
Click Here For Current Rates:
Adult Premium Downhill  Half-day- Full-Day
All Mountain Enduro Half-day- Full-day
Junior Package (12 and under)  Half-day-  Full-day
Get Ready — The Mountain Biking Season Will Be Here Before You Know It!
Winter is fading away, and spring always brings with it some incredible riding weather. From bombing down singletrack to testing your endurance on cross country, mountain biking is best when it's done under a brilliant expanse of blue amidst seas of green trees and mountain meadows.
Get those bikes tuned, make sure your shoes fit, and get ready for the best. Because the best is what you get when you ride at Tamarack.