Perched above Lake Cascade in the West Central Mountains, Tamarack Resort lies in one of Idaho's most breathtaking areas. For first-time visitors traveling from or through Boise, the just-over-2-hour drive from Idaho's capital city winds along the Payette River Scenic Byway — one of Idaho's most picturesque road trips (and there's a lot of them in the Gem State).
Beginning in Boise's high desert and ending in the mountain town of McCall — home to Payette Lake, Shore Lodge, Brundage Mountain Resort and more — this byway offers plenty of flora and fauna, roadside sights and small-town stops to keep you gazing through the windshield or to fuel a friendly game of I Spy. Whether you're looking to get gas, grab a bite or simply take a break from the road and stretch your legs, here are six of our favorite stops along the drive between Boise and Tamarack.
Please note: With Idaho in its early phases of reopening amid the COVID-19 pandemic, be sure to contact businesses before setting out to ensure they're open.
1. Fill Up on Fuel and Fresh-baked Pie in Horseshoe Bend
40 min. from Boise
No road trip is complete without an obligatory gas stop and the sampling of local foods — especially when they include fresh-baked pie! At the northern edge of Horseshoe Bend next to the Valley View Chevron Station, you'll find Volcanic Farms Produce. While the tank is filling, pop into this well-known produce stand for everything from farm-fresh eggs, salsa and pickled asparagus to assorted jams and jellies and, of course, their popular fresh-baked pies. Do yourself a favor and pick up a mixed-berry pie (you'll thank us later).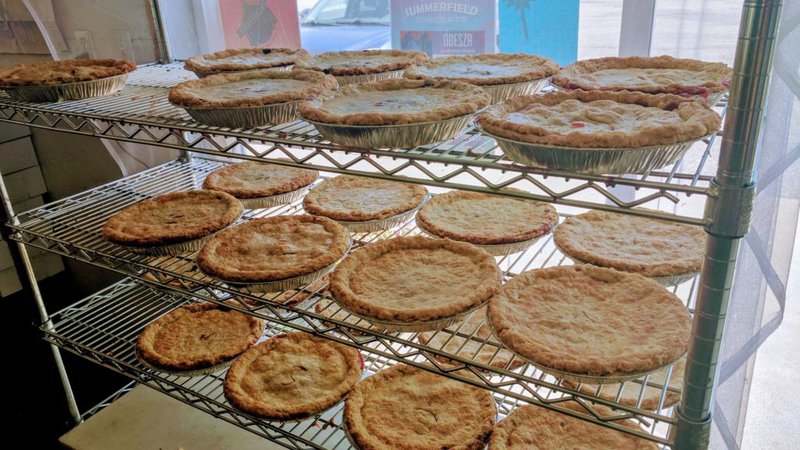 2. Watch Paddlers Splash through Rapids
1 hour from Boise
With the most navigable miles of whitewater in the lower 48, Idaho is a river rat's paradise. You may find it hard to keep your eyes on the road when you spot the never-ending flow of rafts and kayaks splashing their way through the Main stem of the Payette River on your left beginning just south of Banks and continuing along the North Fork of the Payette River until Smiths Ferry (for which you can book a guided rafting trip at Tamarack). There are plenty of pullouts along Highway 55 where you can stop and watch the parade of paddlers. Returning in June 2021, the North Fork Championship brings the best kayakers in the world together to tackle a renowned stretch of this water just east of Banks.
3. Chow Down at Cougar Mountain Lodge
1 hour, 15 min. from Boise
A little over an hour into your drive, you may begin to feel those hunger pangs creeping in. When you're hungry like the wolf, there's no better cure than a stop at Cougar Mountain Lodge near Smiths Ferry. Enjoy the fresh, house-ground tri-tip burger and an old-fashioned milkshake or try a Patty Melt paired with a cold, frothy brew. The lodge also has a small convenience store and seven rustic yet cozy rooms if you're looking to extend your break.
4. Uncover New-to-you Treasures at the Cascade Farmers & Flea Market
1 hour, 30 minutes from Boise — Currently Closed
This roadside market in Cascade offers everything from knickknacks and trinkets to homegrown foods and everything in between. The market is typically open 9 a.m. to 5 p.m. on Thursday-Sunday, Memorial Day through Labor Day.
5. Ride the Wave at Kelly's Whitewater Park
1 hour, 30 min. from Boise
With five in-water features, Kelly's Whitewater Park makes a big splash with rafters, kayakers, canoeists, paddleboarders and tubers of all ages and abilities. Rentals are available at the entrance to the park. Not a fan of water? Then take advantage of the on-site bocce, horseshoe pits and volleyball court. The park also offers a 5-mile walking path to get your steps in along the river. The best part is the park is free (though donations are kindly accepted). The park is typically open Memorial Day weekend through September.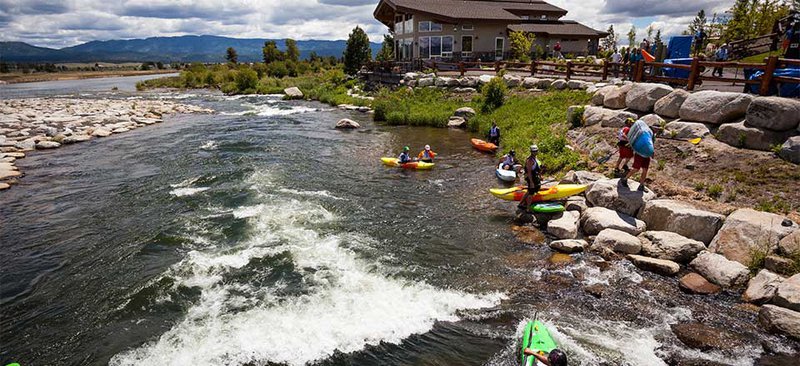 6. Take a Rejuvenating Dip at Gold Fork Hot Springs
2 hours, 10 minutes - Currently Closed
Nothing caps off a couple of hours in the car like a relaxing, restorative soak in geothermal water set in a lovely mountain setting. With six naturally formed pools ranging in temperature from 98 to 109, you won't have trouble finding the perfect spot to sit and soak up the healing, mineral-rich waters of Gold Fork Hot Springs. Gold Fork offers on-site, heated changing rooms with free lockers and suit and towel rentals. Open noon to 9 every day except Tuesday.
With a couple of well-timed stops along your route, you'll be more than prepared for the adventure awaiting you at Tamarack.